Not only when you forget your passphrase, but also when you have some issues commissioning a station to a Jace: resetting the passphrase will help
The "Passphrase" was introduced with Niagara 4 and it is a system that protects personal passwords used on a station by encrypting them, like email login details, driver login details (Niagara Network device logins for example).
In our online course we cover the passphrase and its use. But what if you need to reset it?
Resetting a passphrase on a Station
Sometimes a station can give problems when trying to install it during commissioning on your Jace.
Some other times you want to be able to reuse a station installed on that has an unknown passphrase.
Either way, there is a simple way to reset the passphrase on that station.
NOTE: Choosing to proceed will clear any sensitive data in your station. This includes email login details, driver login details (check the Niagara Network devices for example) and other sensitive login data. The station users should remain intact.
Make sure first of all that the station is on your PC. So if you are trying to re-use a station from a Jace, you need to copy it first on your PC.
Open the Workbench and from the NAV Tree under "My Host", find the station files and double click on config.bog.
Then look on the icon toolbar on Workbench for an icon that has an "open lock" (point number "2" on the picture below).
Click on it and select the last option to "Force any password values to be cleared", or "Force the file to start using a different passphrase" to enter a new one directly.
Remember to save the Bog file once finished (point "4")
Resetting the passphrase on your engineering Workbench
You can't retrieve the platform host passphrase as it is hashed in the windows registry.
However, you can reset it.
First thing to do is to close the Workbench
Then go to the Windows menu and search "regedit" to open the Registry Editor (regedit.exe).
From there navigate to "Computer > HKEY_LOCAL_MACHINE > SOFTWARE > Niagara4" and select and delete the "systempw" registry (via right-click menu).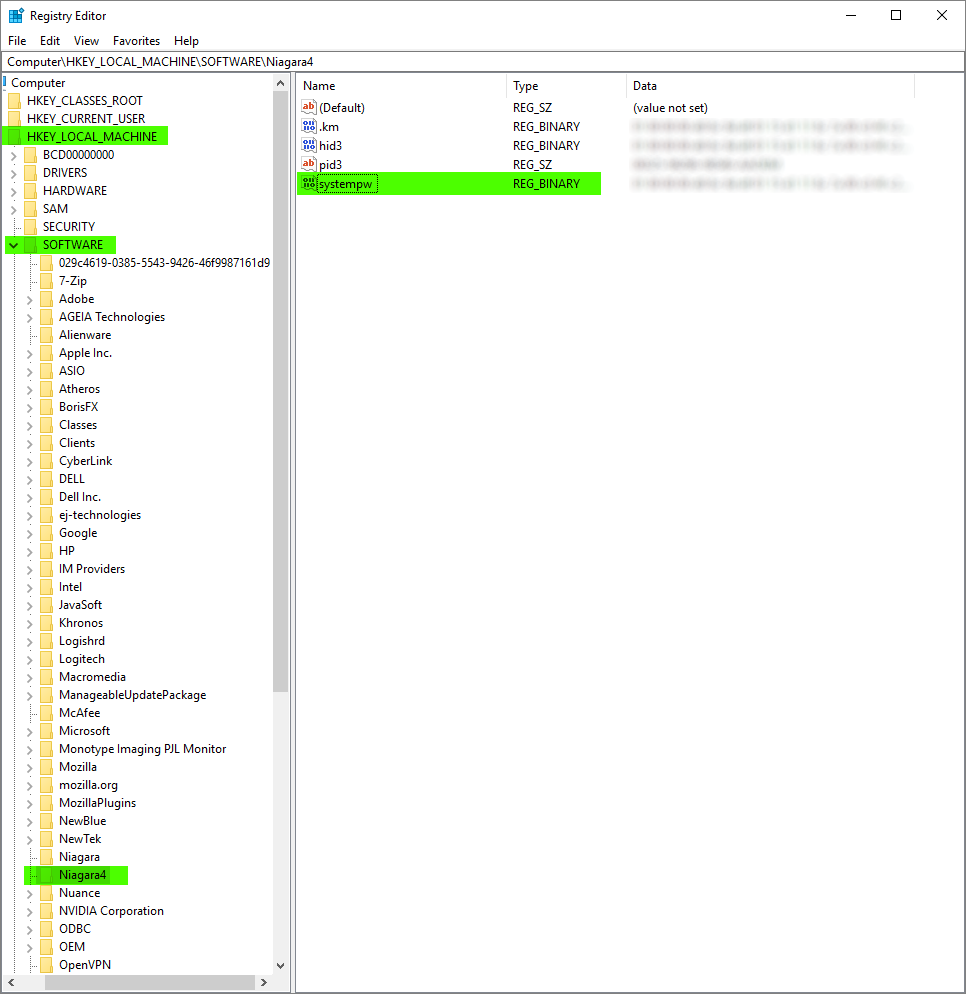 System passphrase will default to "niagara".
You can then set it once again via Platform Administration > System Passphrase button.
Resetting the passphrase on a Jace8000
If you don't know the current passphrase, installing the "clean distribution file" on the Jace ("cleandist") is a good way to reset it to default "niagara".
With the Jace8000, there is also a procedure to restore the Jace to the factory settings by just using the button on top of the controller. The procedure is described in details on the Jace Startup manual. We are going to cover this on a separate article of this Knowledge Base
Just remember to take a copy of the station from the Jace to your PC before doing that, otherwise you will lose it.
You can reset then the Station passphrase following the procedure on top of this article